We are closing out the Betsy and the Sally their nice shoes but time to make something different when they're gone there gone.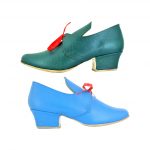 514 Belt buckles are here! we only have 500 and are expected to sell fast. so order early and order often.
The buckle is a white brass casting, it fits a standard belt. Boom people that know will know. I made it small enough to ride with and big enuff to read.
If you don't know what this stands for don't worry about it.
Two finishes
One is Bright finish  30.00  apiece or two for 50 or 4 buckles for 100.