We are closing out the Betsy and the Sally their nice shoes but time to make something different when they're gone there gone.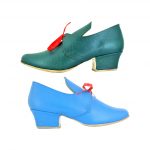 We make medallions for events. Each one is different that represents the club that put on the event.  Special buttons cast in lead – free Britannia.  Have gems set in your buckles to make a good impression? Paint red heels on your shoes. These are special projects and may take a day or so.
We now can monogram your buttons and more. There is a limit to how many letters we can put on one of the following Fugawee manufactured buttons.  We are offering this service for button 126,127,128,129 and 130. 1 1/4in to 3/8in.