We are closing out the Betsy and the Sally their nice shoes but time to make something different when they're gone there gone.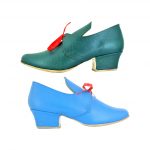 The Cheri has an 1 3/4″ heel, good for walking on rough ground. The tie will keep the shoe snug to your foot.
The Cheri is our latest in the series of the Anna.  It has a brick red leather and the toe is more sloping than the first Anna.  It has 2 lace holes, one on each latchet, change the ribbon, add a large rosette or silk bow and you will be in early era.  A colored grosgrain ribbon will take you later in the 19th century , of course a black ribbon during the Civil War.  It still has the wider heel base, so walking on rough ground your heel won't sink in easily.  Good also for every day dress and adds color to your outfits.  Deemed by costumers as the best style for Colonial looks.
Half and whole sizes: 5B to 12C  $100.34